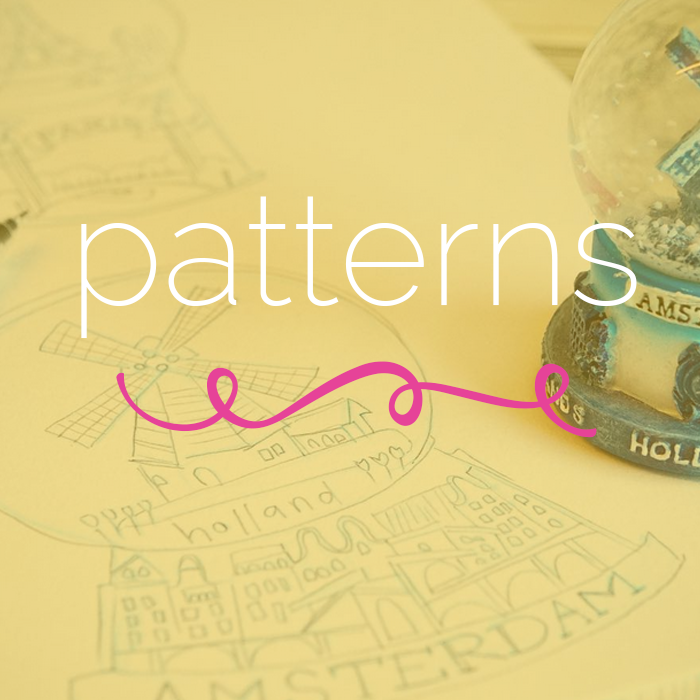 Autumn 2017 introduces my new range of embroidery patterns. Last year I launch a very small run of a few of my snow globe patterns and they sold out in no time so this year I am introducing a full range of patterns, with more being added all the time.
You can now make your own pictures, cushions, patches, hangings all with my unique drawing style. All of the patterns I am releasing are my very own hand draw designs taken from my personal collection of snow globes. More series will be coming soon too, flowers, cities, amongst many other subjects. And because I had draw my artwork in my quirky naive style your patterns have that same fun and higgledy piggledy feeling.  
Not your usual paint by numbers patterns. I want these patterns to be a collaboration between the two of us, and to do that I want you to go wild with your own colour palette. But also I don't work with any one type of thread, I look for different textures to create my work, I like tapestry wool, darning thread, silk, cotton, crewel wool, basically i like to try everything and so to do a specific chart would mean you having to buy too many threads you might not find easily available and I didn't think that was fair. I will however be bringing out patterns in the future with specific colour charts for some patterns so if thats what you're looking for then do not worry.
What will I need?
In your PDF download you will get your line drawn pattern and a few help sheets to get you started. How to transfer your design, some stitches to use, how to look after your embroidery, what needles and threads are good, how to use hoops and stabilisers as well as a suppliers sheet.
You will then need to provide your own fun fabric to stitch it on, it doesn't need to be a counted cloth it can be any cotton, linen etc fabric you desire. Lighter paler fabrics work best.
You can use a normal household pack of needles, doesn't have to be fancy.
A selection of your favourite coloured threads and why not try a few new ones to see if you like them.
A hoop will really help you. Get the size you need to fit your design into, as my patterns can be printed out to be any size you might want to make.
But most of all you need a bit of time to yourself to stitch and relax and enjoy the making process.
What am I paying for?
By buying one of my patterns you are buying the license to use my drawing for personal use.
As an artist I have intellectual property over all my work and so that means people can't just take the designs and ideas I have spent my life training to make. But with a pattern I am saying hey dudes it's totally okay for you to use this design to recreate as many times as you want onto whatever you want for your own personal use or to make as a gift.
I suppose it's like buying a piece of work from an artist, or commissioning someone. You are buying their creative ability to produce something, something us artists train for years to learn and have a special talent for.
You are also buying something from a real person at the end of an internet cable who is trying to make a living to pay their bills, feed their kids, and have the occasion holidays or weekend away. And believe me I'm eternally grateful that you like my work and would want to make something from one of my patterns, so thanks a million. xx